The Baby Show Live @ Home
Virtual Event, Online.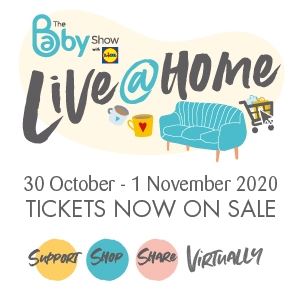 The Baby Show Live @ Home with Lidl will run from Friday 30th October until Sunday 2nd November 2020. With three days full to the brim of exclusive shopping offers, our new digital platform and app will enable you to live chat with the industry's leading brands and boutiques. Book one-to-one product demos, find and bookmark your favourites and create your own product wish lists. Most importantly, compare and buy everything you need, all in one place at the best prices.

Hear from over 40 of the UK's top experts and qualified practitioners across two days giving expert talks, live speaker Q&A's and panel discussions curated exclusively for The Baby Show. Learn new skills, solve parenting issues and find the support you need to feel empowered on your parenting journey. You'll be able to log in and log out whenever you want and playback anything you may have missed - even through those late-night feeds!

We have two amazing ticket offers to the event - a weekend virtual pass with or without a MadeForMums goody bag which can be delivered directly to your door. Each goody bag is worth over £35 and has all of your best baby essentials!